The 1980s were great time to grow up. Where you had a balance of the all the ERAs. As kids we liked cartoons. There was NO internet ,NO mobile phones or computers accessible as kids in some countries.
The only thing was going to school coming back and have a sleep . After that go outside and play football with friends. A joy todays kids who are 'imprisoned' by tech gadgets cannot understand. I m talking about kids growing up in Middle East. The time kids were innocent in the early classes. Something that has been snatched from today's kids.
There was recreation like spending time with family or going outside and playing. The malls weren't much and the first mall that opened was Caravan market and later on was Sarawat.
Aside from the above we had enthusiasm for watching cartoons.
Here are few of them.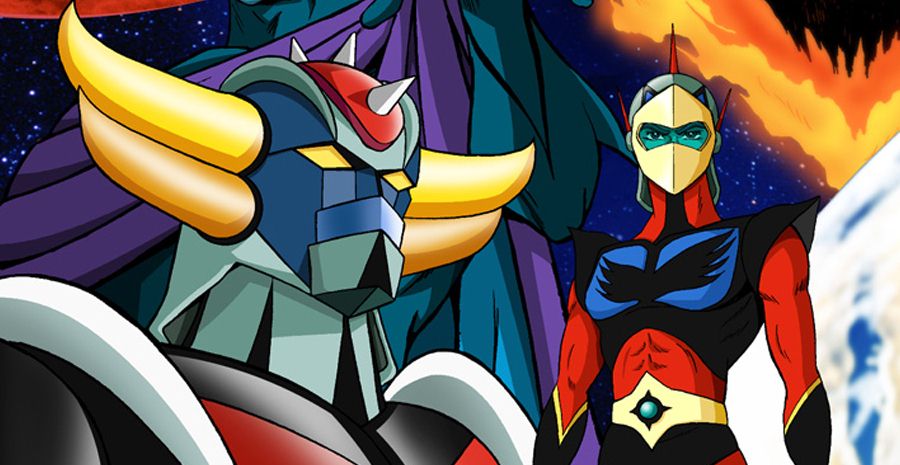 This cartoon was shown in the 78-83 in Saudi Arabia. The story was 'Dokfleed' escaped from Planet Vega'. He took refuge on Earth with Dr Amun', who was his father. This was in Arabic and that's how learned Arabic faster. Later on Dr. Amun' was not hero's father. Duke Fleed actually in Englsih (Dokfleed) was when he was in his suit but otherwise he was in real life, normal guy named "Daiski". Some thing like Clark Kent and Superman. Initially this secret wa snknown by Dr. Amun'. Grandizer was the robot controlled by Duke Fleed. The heart raced with joy when the cartoon Grandizer started. A feeling kid of the 80's who watched Grandizer as kid would understand.
Englsih name :Force Five Italian :Goldrak
1.Grandizer.
Grandizer was cartoon created by the Japanese manga cartoonist :Go Nagai. This guy is a legend as the cartoon itself. He has given other manga cartoon hits like Mazinger. Grandizer has collectibles and toys. Some fans do buy at great costs. But more than cartoon was the Arabic song by Lebanese singer Sammy Clark.
2. Adnan wa Leena
This is about a strong boy named Adnan and another girl he likes known as Leena. The setting is in future world of 2008. Hey we even got past this date! When I watched it was 1982. A time we thought we would meet aliens in 2000. well its 2022 and we haven't met any one nor is mars populated with humans. The cartoon in English known as Future Conan Boy. A world after the third world war. Even the Arabic song brings so many memories. Reminds me of once classmate called Adnan Meraj. But he does not want anly links with his previous school mates.
Created by Japanese Hayao Miyazaki
3.Sinan"
The opening went like :"Sinan ya Sinan…"
Sinan is a cartoon of the 1980s. When I came to Dhaka. An aunt came to Dhaka, and was telling me about the cartoons of Saudi Arabia. I asked her what cartoon they were showing in Saudi. she said it was Sinan. Sinan is teeth in Arabic. I was confused until I went to Jeddah and saw myself. It was cartoon of a chipmuk. The year was 1983.
In English its called Don Chuck Monogatari ,a Japanese anime created by Susumu Yoshida and others.
Japanese –Don Chakku Monogatari
Arabic –Sinan
Persian- Brave Boy
Italian-Don Chuck Castoro
4.Jaziratul Kanj– Treasure Island
Jaziratul Kanj is based on the Book by a Scottish author named Robert Louis Stevenson . The story is set in 18th century about pirates and a young kid who goes to look for some treasure. I went to read the book after seeing the cartoon. Interestingly we had two Scottish teachers :Mr. Davis and Mr. Stuart Lambert in our school.
Main characters :
Jim Hawkins
Capatin Smollet
Long John Silver
The song was really sung by passion by the famous Sammy Clark. "Wa kanjona fil Jazira…"
The book is a must read for youngsters.
5.Battle of the Planets -G Force
The Battle of the planets is an American adaption of a Japanese anime Gathchaman(1972). This was made by Japanese cartoonist by name of Tatsuo Yoshida who died in 1977. He was responsible for another Japanese cartoon. I did not know this until today's post.
The team of G Force which was on Earth consisted of five persons :
Mark'
Jason'
Princess'
Keyop
Tiny
It was in 1984 when this cartoon was shown in Saudi second channel . This was time I learned a person could communicate with his watch.
They were fighting against commander of Spectra :Zoltar, who received orders from Luninious One". Their spaceship was called Phoenix . It was battle of Earth against some other villains from outer space.
6. Speed Racer
Speed Racer is about young man in his late teens who races car to win The Car is specially designed with gadgets and techs. This Japanese anime was also known as Mach GOGO. This was also made by Tatsuo Yoshida and went to TV in 1967. The name of the main character is Speed Racer and from the hidden background Racer X supported his younger brother Speed. Racer X supposed to have run way from home. This was also by Tatsuo Yoshida. Really a talent, this cartoonist.
Language shown in TV:English
Time :1988 approx.
Cartoonist :Tatsuo Yoshida
7. Bashar
Basahar' was a Arabic cartoon about a bee looking for his mother the queen Bee. During his quest he had face mainly difficulties ,hassles but he had helped insects' too. The world of insects was shown in the Bashar cartoon. The most passionate song was the ending song. It was song by a lady from Iraq with passion. Her name was Bahira Rifaat from Iraq. It is a Japanise anime by Tatsuo Yoshida . He had his own Production company.
Bahira Riffat-Opening and ending Song.
Noor Sabri-"Bashar voice"
Falah Hashim-Narrator. (he also did voice as Adnan)
Language shown in TV: Arabic
Time :1981 approx.
Cartoonist :Tatsuo Yoshida
In English it was known as The Adventures of Hutch the Honey.
8. Space Ghost
Space Ghost was cartoon made by Hana Barbara in the 1960s. It was supero cartoon whose anme was Space Ghost. He was a do gooder with an American accent. He had a special voice by Gary Owens.tHey were in comic books too.
9.El Leith El Abyad"
The white lion who was king of the Jungle. His fights as kid was where he was Kimba in English(1st Season). A Japanese anime by name of Shin Janguru Taitei: Susume Reo!, produced in 1966 by Osamu Tezuku. The Arabic opening theme is something one cannot forget from the life in Jeddah of the 1980s. The Kid kimba grows upto be Leo or "Laith" in Arabic and rules jungle with justice. In English known as Leo the Lion.
Language :Arabic
In Tv:1981
Place :Jeddah
Finally we have the last cartoon.
10.Heidi
Heidi is a well known character from a book by Johanna Spyri. In Arabic cartoon shown in 1984 showing a little girls visit to Switzerland and living with her grand parents. The opening theme brings a lot of memories. Memories of the good old days of the 1980s.
The cartoon , a Japanese anime known as Heidi, Girl of the Alps .Toyoo Ashida and others made it possible to bring Heidi .
Here is a list cartoon into in Arabic from the 1980s.