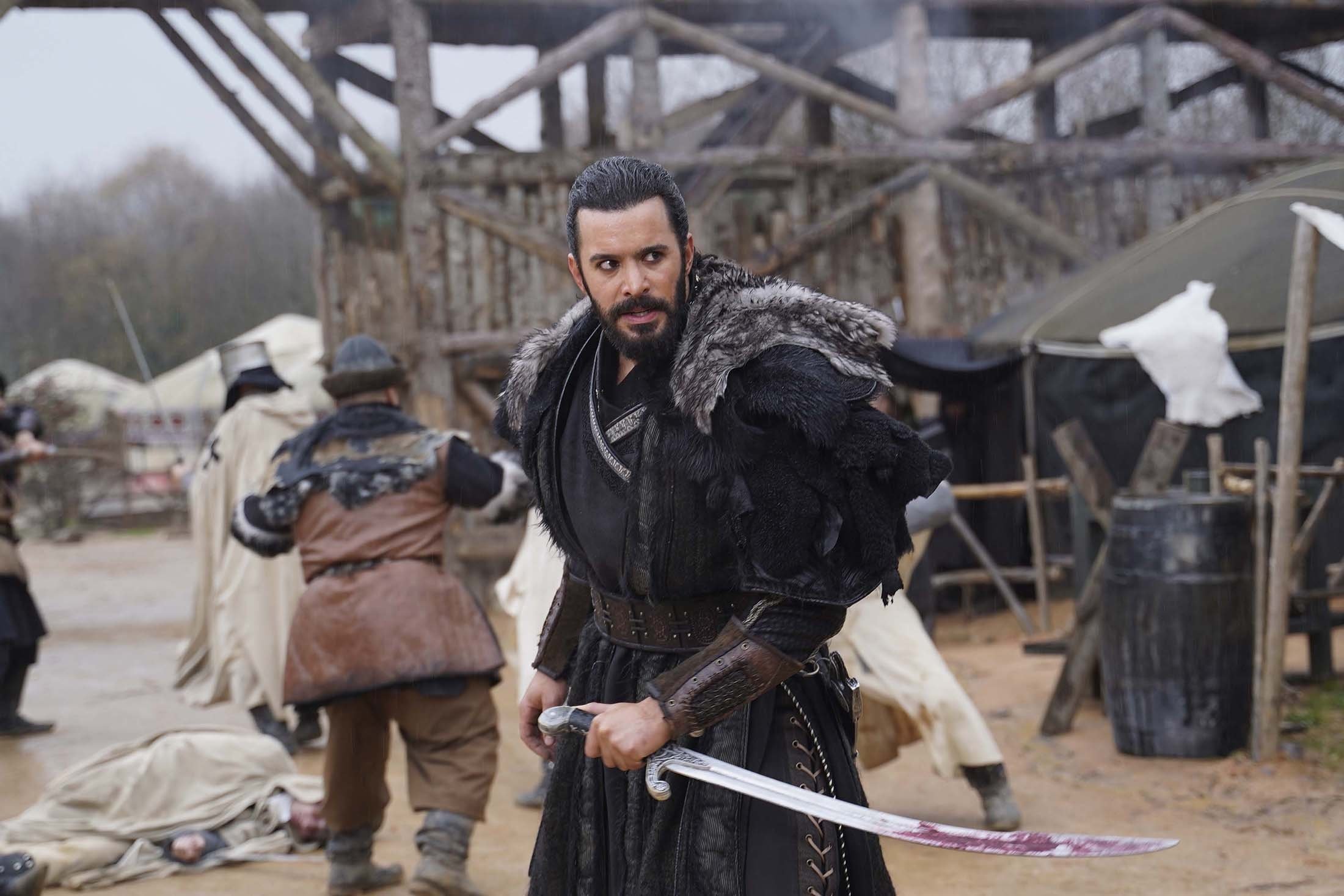 Alp Arslan -The Story
We have heard lot of people in history. But most of us, if it was not for the Turkish TV series ,would not have discovered Alp Arslan. The Turkish language though in Latin script ,is avoided by Non Turkish people. It is like Turkish people were secluded from the rest of the world for some time, when it came to their history and culture. It was after the advent of Dirlis Ertrugrul that changed mindset of Non Turkic people about Turkish history. The zeal and interest was sparked.
Alp Arslan's complete name was Adud Al-Dawla Abu Shuja Alp Arslan Muhammad. Alp Arslan meant " Valiant Lion". His father was known as Chagri Bey(Governor of Khorasan) and Uncle, the Sultan Tughril. Though legitimately throne belonged to Chagri Bey,but he let his brother take the Throne.
Birth
He was born in 1030 CE. Location :Khurasan.
Lineage-The Seljuks came from the Kinik tribe ,one the 24 grandsons of Oghuz Khan. His grandfather Mikail was son of Seljuk Bey who raised Tughril and Chagri Bey. This happened after death of his father.
The reason for writing this post is he was known as Ahmed Sanjar's Grand father and the fact he defeated the Roman emperor in Manzikert. It was not learned from any text book but watching Turkish Tv Series. One of the greatest
Marriage
He had 3 wives.(according to sources)
Safariyya Khatun
Aka hatun. She was previously wife of Tughril Bey(uncle of Alp Arslan. after death married to Alp Arslan). She was daughter of Qadir Khan Yusuf, Karakhanid leader. (shown as Arslan Yusuf in TV series)
Shah Hatun
One o the wives being of Kara-Khanids origins.
TV/Movie talk
The viewers watching series of "The Great Seljuks" or Uyanis Buyuk Selcuklu might have felta resentment towards them as Malik Shah's 1st wife Tekhen Hatun was a karakhanids and was praising them in her heart and their superiority. The fact is ,she was correct. The Kara Kahnaid Khagnate was very powerful and the first of Turkish to accept Islam. But that will be discussed in a another post.
Children
His Children include :
Malik Shah I
Tutush I
Tekish
Arslan Argun
Sifri Khatun-married to Abbasid Caliph Al Muqtadi.
Aisha Khatun-married son of Ibrahim Khan Tamghach.
Zulaikha Khatun
Note: Malik Shah I 's 1st marriage was to Terken Khatun, daughter of Ibrahim Khan Tamghach also.
The Seljuk Capital
There might be some wonder among readers of history (Seljuk) that despite being Turkish ,why were they moving towards places in Persia.(Iran). Actually the Seljuk capital was known as Rey, Rey or also spelled as Ray. It is not that the Seljuks founded the city. Rey was founded in 559 BC Century BC during the Achaemenian Empire. It is mentioned in the Zend Avesta as a sacred place. The place was conquered in 641 CE by Muslim Arabs, during reign of Caliph Mohamed Al Mahdi.
Seljuk Products
The Seljuks known for carpets. Not many survive but it inspired the Ottomans. Fragments of carpet from the historical era survive
In any case Turkish and Persian carpets were beautiful and valued now days. The Kings and Royal people had fascination for carpets. As among Turks, Arabs and other Asian people, sitting on the ground over a mat was a common place.
Persian carpets
Achievements
Alp Arslan proved he is fit for being the sultan, even before being Sultan. Among many of his achievement, he conquered Vaspurakan.
Managing Emir Bozan
Conquering Vaspurakan
Defeating Byzantine Emperor Diogenes in Battle of Manzikert and bringing the Byzantine emperor as prisoner and later on freeing him.
Do you want to read more South Asian and Muslim History? Follow us in Twitter.
---
Battle of Manzikert
The battle of Manzikert was fought in 26th August ,1071 CE in Armenia. Also known as Malzgirt. This was one of the reason Turgut Alp (Cengiz Coksun) did not come back to Kurulus Osman since he went to perform as Alp Arslan in Malazgirt 1071.
Battle description
The Battle of Manzikert was between the Byzantine Empire and Seljuk Empire. Seljuk Army -Alp Arslan with 50,000 soldiers.(some Islamic historians say they were 15,000).Byzantine Army -Emperor Romanos Diogenes IV with 200,000 soldiers.
Reason of war -Alp Arsalan had gone to Egypt to remove the Fatimids from Power. There was threat of attack form the Byzantine empire of attacking since Romanos wanted to teach the Turks a lesson .
1.Feb,1071 CE-Romanos sends request to renew Peace treaty with Seljuks.
Alp Arslan agreed and moves to remove the Fatimids.
Romanos thought as Alp Arslan would go to fight the Fatmids, he would attack the Seljuks. This was part of his plan. Win by Deception and unjust. after all they were the Byzantine Empire!
Alp Arslan aborts his Fatimid campaign and was returns to meet in Manzikert which is in Turkey.
Alp offers a peace treaty to the emperor which was mocked by a reply.
Pride was the reason the Devil fell from heaven. He is called Shaitan or named Iblis. Romanos showed pride and he was confident of winning. He meant there there would not be peace until he took over Seljuk Empire whose capital was in Rey or Ray.
Alp Arslan to the Battle
The teacher of Alp Arslan Sheikh Muhammad ibn Abd al-Malik al-Bukhari al-Hanafi, advised him to go to battle on Friday after the Jumah Prayer(Friday). Friday being the holy day for Muslims. This the day where all Muslims attend prayer in congregation. The idea was that after Friday prayer the mosque imams will be praying for his victory. Thus the Almighty will favor Alp Arslan in getting the victory.
After Friday prayer his address to the soldiers was :
---
""This is my shroud! Either I will be victorious, or I will go to heaven as a martyr. All of you who choose to follow me, follow me. All those who choose to leave, leave! Here there is no sultan who commands and no soldiers who are ordered. Today I am one of you. I'm a veteran (Ghazi) who fights with you."."

— Alp Arslan ,Seljuk Muslim Sultan
---
Winning the Battle
The battle ends at Sunset with Alp Arslan and Muslim army being victorious. General Andronious Doukas played a rebellious role by not follow orders of the Emperor and not backing retreating army. He was blamed for the crushing defeat. He was nephew of Constantine X Doukas who earlier had disagreement with Romanos on various issues.
Alp Arslan later reprimanded Romanos on not accepting peace offer earlier . This was mentioned by well known historian Edward Gibbon . Alp Arslan supposed to have placed a foot symbolically on the defeated emperor's neck (custom of the day). Romanos was proud and not an equal in grandeur to Alp Arslan. This was shown in his relies and actions. Both of them dined together and Sultan asked Romanos, what would he have done with the Sultan, had the opposite result occurred. The conversation went on something like this :
Alp Arslan: "What would you have done if I was brought before you as captive?"
Romanos: "Perhaps I would kill you, or parade you through the streets of Constantinople."
Alp Arslan: "Yet my punishment for you will be much crueler: I shall forgive you and set you free."
Romanos though not grand as the Sultan but was charming, young and honest to his Empire. He was more competent as a ruler than his counterpart Dukakis . This family wanted to win regardless of the costs. According to Gibbon the reprimand of Alp Arslan was
We will be concluding our next part on Alp Arslan, pls subscribe to us in Twitter. Let us know your feedback .
Subscribe to Indica Collection
References